River Phoenix's last film to premiere in Miami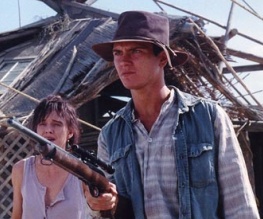 Dark Blood, the last film River Phoenix starred in before he died of a drug overdose in 1993, is to have its American premiere at the Miami Film Festival. When Phoenix died, the film was 80% complete, but now french director George Sluizer has finished the film with stills that were on the cutting room floor. The film also stars Judy Davis and Jonathan Pryce.
Incredibly, the footage spent 18 years in storage facilities in America and the Netherlands, and at some points was in danger of being destroyed. However, Sluizer's film was last year given its world premiere at the Dutch Film Festival 2012. For its North American premiere, Dark Blood will play at the Miami International Film Festival, which this year celebrates its 30th anniversary. The festival has said "Dark Blood is a film of legend, one of Hollywood's great mysteries," and "We are proud that George Sluizer has honoured Miami as the place to finally share his remarkable collaboration with Phoenix and the other great artists involved with Dark Blood."
In the film, Phoenix plays Boy, a widower living on a nuclear testing site who spends his days carving wooden dolls he believes to have magical powers. A couple traveling in a Bentley (Davis and Pryce) break down in the desert and Boy rescues them. Boy believes the world will end, and so holds the couple prisoners in his underground bunker. First reactions to the film have been mixed, with critics calling it "strange". It had been expected that an unfinished film would be strange, and even its director compares it to a chair with three legs saying "The fourth leg will always be missing but the chair will be able to stand upright."
The Phoenix family have not commented on the release of the film, apart from to say that they don't wish to be associated with it. River Phoenix was nominated for a supporting role in Running on Empty in 1989 and won an Independent Spirit Award for his role in My Own Private Idaho in 1991. River's brother Joaquin has this year been nominated for an Oscar for his performance in The Master.
The Miami Film Festival will run from 1-10 March. A UK release date for the film is yet to be announced.
Do you like the sound of Dark Blood? Are you a massive Phoenix fan? Let us know below.
About The Author