Robert De Niro is back to the drama in Being Flynn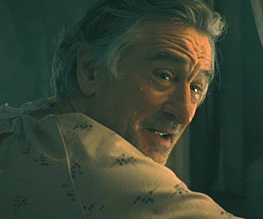 No Super Fockers? That's a real shame. It looks like De Niro is tired of walking menacingly towards Ben Stiller, and instead is concentrating in being in proper actual films again. He's starring in upcoming drama Being Flynn – the true story of writer Nick Flynn and his relationship with his estranged father – alongside Little Miss Sunshine's Paul Dano. Hurrah!
Having not seen his father in years, Nick Flynn cannot believe it when the ol' man stumbles into the very homeless shelter he works at. Both are writers with ambitions above their means – will this meeting be the inspiration both need to complete their Great Works, or will it send both of their lives into disarray? Based on the memoirs of Nick Flynn, cheerfully entitled Another Bullshit Night In Suck City , Being Flynn is adapted and directed by Paul Weitz of About A Boy fame and Little Focker infamy. Trailer ahoy!
Music and dark hair and hugging and sad coats and clever wordplay. We're intrigued. And just so relieved that at no point in this trailer does De Niro have a comedy heart attack. Stay tuned!
About The Author