Ross Noble is an evil clown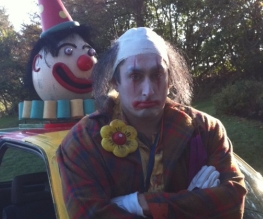 Bill Bailey's managed it, Dylan Moran's popping up all over the shop and Eddie Izzard has proven to have more than a few dramatic bones in his body. It's now the turn of surrealist stand-up Ross Noble to wade onto our screens, playing the killer ghost-clown Richard "Stitches" Grindle in the new horror comedy Stitches.
The film will follow the life (and end thereof) of the eponymous clown, as he dies at a particularly unpleasant kids' birthday party. Later, the kids are all growing up when, uh-oh, who should come-a-calling but a ghost Ross Noble, itching for vengeance.
From the sound of things it'll be somewhere between IT, Psychoville and Tucker and Dale vs. Evil. All we know for sure is that at some point Ross Noble gets stabbed in the face, so we are DEFINITELY watching it.
About The Author