Run For Your Wife takes £602 nationwide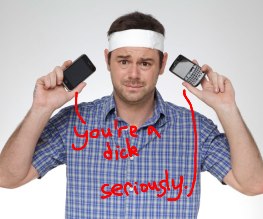 We couldn't possibly comment on whether or not our spectacular Danny Dyer hatchet job ("the biggest piece of unmitigated snobbery I've ever had the displeasure to read" – some idiot on Twitter) had anything to do with this story, but we suspect you'll be able to make up your own minds. Run For Your Wife, the Ray Cooney stage farce which rose from its 80s grave to appear on the big screen last week, has managed to net a spectacularly awful £602 during the first weekend of its UK release. Do you like how we said "UK release" as if there's the slightest chance of it showing anywhere else? We did.
Despite a four-day opening weekend (the film hit cinemas on Valentine's Day, which sounds like an ideal way to torpedo any relationship to us), the average gross per cinema was just £67. YES, maths fans, that does indeed mean that only nine cinemas were showing it! A marginally wider release is currently under way thanks to Odeon's cute habit of screening God-awful films for inept seniors, so if you're bored at 11am one morning and feel like a cup of tea, a biscuit and ninety minutes of sheer bloody torture for £3 then you know where to head.
Inexplicably, there was no opportunity for press to review Run For Your Wife. We'll be heading to the Odeon in Swiss Cottage tomorrow morning to see it with the local silver screeners – if there are no expressive profanities on Twitter by half twelve, send a search party.
Ahahahahaha.
About The Author