Rutger Hauer to join Dracula 3D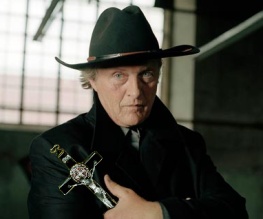 Do not adjust your screens, folks – it's all true. Suspiria director Dario Argento is indeed directing a 3D reinterpretation of the archetypal Gothic horror Dracula (presumably in an attempt to recoup his losses from 2009's spectacular flop Giallo), and Replicant/Hobo with shotgun/utter fittie given that he's a Dutch pensioner Rutger Hauer is to play chief vampire hunter Abraham van Helsing. Wardrobe won't even need to find him a hat!
Hauer will be stepping into some pretty expansive shoes – the character of van Helsing has previously been portrayed by actors including Peter Cushing, Laurence Olivier, Anthony Hopkins, Christopher Plummer and of course Hugh Jackman (sort of). Almost no other news on the film has surfaced, but it's safe to say we're practically haemorrhaging excitement. Imagine all those white teeth and heaving bosoms in glorious 3D!
About The Author