Ryan Gosling and Zac Efron rumoured for Star Wars VII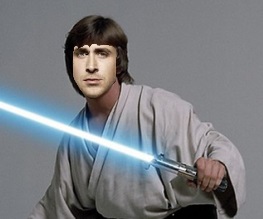 We've all always known that any new Star Wars movies are going to need a young, winsome hero to come of age and face his destiny. But who is blond, blue eyed, and whiny enough to be the new Luke Skywalker? And, for that matter, who's rugged and wisecracky enough to stand beside him? Well, that ever ready fount of rumour known as "source" has a possible answer.
New rumours published by Latino Review speak of Episode VII starring Ryan Gosling (not to be confused with Ryan, Gosling) and Zac Efron (Because, Disney, obvs). These aren't immediately obvious casting choices, but the folks at LR were bang on when it came to Harrison Ford reprising his role so we're guessing they're pretty well connected.
Ryan Gosling, known for being brilliant in Lars and the Real Girl, and then spending the rest of his career brooding and holding kittens, is apparently in talks to play Luke Skywalker's son, which would mean Luke ignored the Jedi creed just exactly as much as his poor father did. Source didn't deign to specify a role for Zac Efron, who's actually done a pretty solid job of very nearly almost making us forget he was in High School Musical, but some dude on a website is speculating he'll be one of Han Solo and Leia's kids. If we're going by the books, that makes him Jacen (who goes evil), Jaina (who's a girl and PRACTICALLY ME) or Anakin Jr (who really didn't deserve a name with that much baggage).
Going for such well established names would be a departure from the norm; most previous Star Wars stars (see what we… did… there?) were comparative unknowns before joining the franchise. Developments for Episode VII have been kept well in the dark, so there's no telling when we'll hear confirmation of the rumours, but we're guessing that Source will have more for us soon.
Could you see Ryan Gosling as Ben Skywalker? Is the new trilogy even going to be based on the Expanded Universe? WE NEED ANSWERS
About The Author