S.H.I.E.L.D. TV promo now up, Coulson LIVES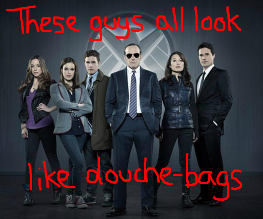 S.H.I.E.L.D. is the organisation responsible for… well we're not sure exactly what they do, but it has something to do with telling superheros who to punch. Agents of S.H.I.E.L.D. features Clark Gregg reprising his role as Agent Coulson, and the first promo for the ABC series has hit the intertubes. It's a little rough, but hey, it's on a massively reduced budget from Marvel Avengers Assemble. Frankly, we're still looking forward to it.
Compared to the Agent Coulson we came to know and love (and mourn… sort of), the one in the TV promo is a little more assertive and generic than we'd like, but the video was far too short to get a sense of the show's style in both writing and effects. Expect to hear a hell of a lot more about Agents of S.H.I.E.L.D. over the coming weeks, especially rumor and debate over why Agent Coulson is still alive despite the show being set AFTER the events of The Avengers.
If you'd like to see a little more of Agents of S.H.I.E.L.D., why not try the 'extras' section on your DVD or blu-ray for The Avengers – there's a short film about a couple who activate a gun retrieved from one of the alien dudes in The Avengers, who then use it to rob banks – hilarity ensues. It might be the sort of thing to expect in Agents of S.H.I.E.L.D.
Starring Clark Gregg, Ming-Na Wen (remember her?) and a bunch of other random attractive people from other TV shows, expect Marvel Agents of S.H.I.E.L.D. to hit ABC sometime soon. Let's hope it gets better treatment than other Joss Whedon TV shows…
Agents of S.H.I.E.L.D. – great idea spunoff a great film, or a low-budget cash grab? YOU DECIDE.
About The Author