Sacha Baron Cohen to star in Paramount film The Lesbian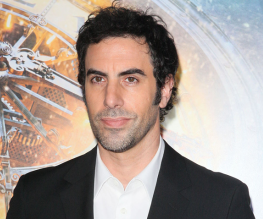 Sacha Baron Cohen is in talks to develop a feature for Paramount titled The Lesbian. Remember Hong Kong billionaire Cecil Chao offering an insane amount of money to any man willing to 'convert' his lesbian daughter (who had recently married her longtime partner) to straight? Well this film will be using this horrific man as the inspiration for the comedy and judging from the ballsy title, it won't be holding back any punches.
The feature will be produced by Sacha Baron Cohen's production company, Four By Two films and with the last film the company made for Paramount (The Dictator) grossing a cool $175 million, there is every possibility the British comic will repeat his prior successes. There's no word on which part Sacha Baron Cohen will be playing but chances are he'll go for the role which has the most comedic potential and play the billionaire.
Sacha Baron Cohen has developed something of a penchant for going for the jugular. In fact, we can't remember the last film he appeared in that didn't end up in a mess of lawsuits and out-of-court settlements. With a story-line that looks set to publicly lambast a very real and clearly very rich figure, we don't imagine The Lesbian will be any different. Sacha Baron Cohen had better get the chequebook ready.
About The Author