Sam Claflin CONFIRMED for Hunger Games: Catching Fire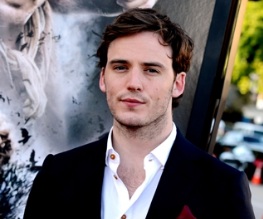 Sam Claflin has FINALLY been confirmed for the role of Finnick in Catching Fire, the hugely anticipated sequel to blockbuster dystopian flick The Hunger Games. Nothing quite like playing hard to get, is there Sam?
Claflin, who starred alongside Kristen 'The Adulterer' Stewart in Snow White And The Huntsman, has been a favourite for the role for months but, due to scheduling issues, nothing was confirmed. But now, unsurprisingly, Sam has shifted his diary about to make room for what could be the biggest role in his career so far.
So who IS Finnick? Fans of the Suzanne Collins trilogy will know him as the charismatic and clever victor of District 4, poised to re-enter the Hunger Games arena for a special anniversary battle. And he'll be wearing nothing but a fishing net, covering his (ahem) modesty with a few well-placed knots. We wonder how Sam Claflin will look in THAT costume?
Finnick is set to head into the arena alongside Katniss Everdeen (Jennifer Lawrence) and her love interest / fellow tribute Peeta Mellark (Josh Hutcherson) in the 75th Annual Hunger Games – but, with a rebellion simmering in the districts, not all is as it seems in the Capitol. Will Finnick prove friend or foe? We guess only time will tell…
Sam Claflin will be joined by fellow new faces Philip Seymour Hoffman, Jena Malone, and Amanda Plummer, as well as all the old faces from the first film, including the likes of Liam Hemsworth and Stanley Tucci.
We just don't know if we can wait for the second Hunger Games installment to hit our screens in 2013.
About The Author