Sam Raimi to resurrect Evil Dead? Groovy.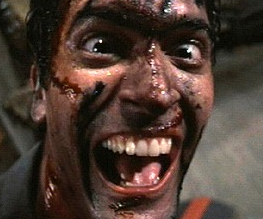 That disquieting sound you can hear is half of the world's fanboys groaning in dubious pleasure as news of a possible fourth instalment in Sam Raimi's Evil Dead series filters through to the online community, causing a collective 'twitch' not witnessed since Xena the Warrior Princess was announced as a recurring guest star on Battlestar Galactica.
Yes, we've been here before, and yes, we all thought the closest we'd ever get to a fourth Evil Dead outing was the wonderfully titled but largely disappointing video game, A Fistful of Boomstick. So why get excited? Maybe because Raimi's long-time producer Rob Tapert recently told the Detroit Free Press that the previously reluctant director had been warming to the idea. "It's possible; we're looking at a script this month," he said, no doubt raising a salacious eyebrow in the process. "What's interesting about Evil Dead is very few people saw it in the format we made it for, which is for the theatre…"
The first three films have given the horror genre one of its best-loved characters: the iconic Ash – played by Raimi's lantern-jawed long-time pal Bruce Campbell – a supermarket manager who finds himself in constant but hilarious torment, primarily inflicted by the wicked 'Deadites'. Who are definitely not zombies, despite what you may have heard.
About The Author