Sam Taylor-Wood Gives Birth to Baby Girl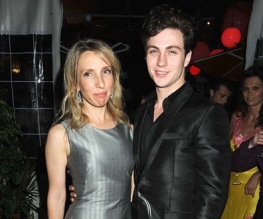 Director and artist Sam Taylor-Wood has given birth to daughter Wylda Rae, her first child by fiancé Aaron Johnson.
The 23 year age gap between the couple has sparked controversy since they became engaged in October last year.
The pair met on the set of Nowhere Boy, Taylor-Wood's directorial debut, when Johnson was only 19. They now share an £11 million townhouse in North London with Taylor-Wood's two daughters from her previous marriage to the 47 year old art dealer and gallery owner, Jay Jopling.
The news of the birth was broken by Christopher Mintz-Plasse, Johnson's friend and co-star in Kick-ass, who tweeted "Aaron Johnson's baby was born!! So exciting!"
43 year old Taylor-Wood has confronted cynics by saying 'I'm in love, I'm blissfully content and I'm pregnant. No one's getting hurt. We're in a loving relationship. We're engaged. Everyone who matters is happy. Hang on… Exactly which bit of that do I have to defend or apologise for?"
Live and let live, hey.
About The Author