Sam Worthington signs on for sensitive subject of slavery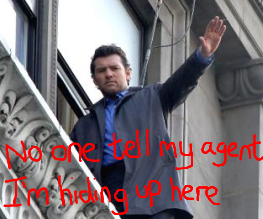 Sam Worthington. What are we going to do with you? Not satisfied inducing sudden-onset narcolepsy by his mere presence alone, The Keeping Room has managed to sign Sam Worthington up for a bit of Union Vs Slaves action. We're no soothsayers, but considering we've already had Lincoln and Django Unchained this year, we doubt if Sam Worthington is quite up to the standards they've set. Prove us wrong, Sam!
In sad news, Olivia Wilde, who was previously attached to the project, has dropped out. And now we have Sam Worthington. It's like losing £10 and then getting bitten by a dog. A boring dog who keeps slipping in and out of his Australian accent. Yay.
Perhaps we're being too harsh on Sam Worthington. It's not as if he's terrible. He marches along well enough as a blue cat thing (Avatar) or punching gods (Clash of the Titans) or standing on ledges for an entire movie (Man on a Ledge) but he's never been outstanding, succeeding far more at being a vector than an on-screen presence.
The Keeping Room is about two sisters and their slave (awkward) who live out in the sticks in the civil war. A group of union soldiers turn up and begin harassing them, at which point it turns into that last 20 minutes of Skyfall. From the synopsis it looks as though the only logical role for Sam Worthington is as one of the evil Union soldiers. Maybe antagonism will suit him better.
We hope The Keeping Room explores the subject of slavery in the nuanced and sensitive manner we've come to expect from Sam Worthington flicks.
Sam Worthington: yay or nay? He's a beefcake and everything, but does he have the chops to be anything more than a bland action star?
About The Author