Samuel L. Jackson's Kite takes its first flight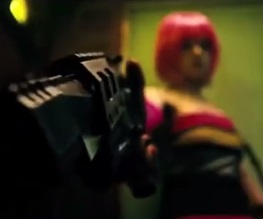 Flying low, low under the radar amongst the line up of movies for 2014 is the live action remake of Yasuomi Umetsu's anime Kite. First released in 1998, it courted controvery for depicting extreme and gory violence, nudity and"strong sexuality" (yup! That's exactly how we'd describe a graphic rape scene as well). Many countries outright banned the OVA but in the U.S. it managed to achieve cult classic nature even in its censored version.
A live-action adaptation has been rumoured for quite some time, but it wasn't until 2011 that David R. Ellis finally confirmed his seat at the wheel and signed on one of Kite's biggest fans, Samuel L. Jackson (proving that even at his geekiest he's still stone cold cooler than the rest of us put together).
Sadly, Ellis passed away early last year, paving the way for South African director Ralph Ziman to make his return to the big screen in his first film since the acclaimed 2008 crime drama Gangster's Paradise: Jerusalema. His arrival brought the addition of India Eisley (from The Secret Life of the American Teenager and Underworld: Awakening) as the kick-ass protagonist Sawa and Callan McAuliffe (of The Great Gatsby and I Am Number Four fame) in the role of her co-star, Oburi.
In a bid, perhaps, to drum up interest, a whole host of footage was released online late yesterday with an impassioned foreword from Samuel L. Jackson himself.
While the trailer proves that the American remake is clinging onto the gratuitous violence and slick battles of the original, the extended footage seems to hint at a more toned down storyline. Sawa turns from a assassin to a daughter bent on revenge and a heroine fighting to bring down a corrupt security force profiting from the trafficking of young women, while Jackson's character holds no traces of the crooked and deviant detective Akai, morphing instead into the morally ambiguous partner of Sawa's dead father, Karl Aker. Whether the tweaks are worth the alienation of the hardcore fanbase is yet to be seen – and since Kite doesn't yet have an official release date, we may be waiting some time.
About The Author