Sandra Bullock in trailer for Paul Feig's The Heat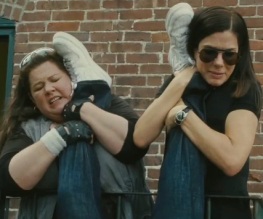 Sandra Bullock, who you may remember from films like The Lake House (Lol! Have you guys seen that film? Lol!) and Speed and, perhaps more appropriately for the sake of this piece of news, Miss Congeniality 2: Armed and Fabulous, is getting back in her FBI gear for buddy cop film The Heat. Directed by the man behind Bridesmaids, Paul Feig, and starring Melissa McCarthy, The Heat will see BFF favourite Sandra Bullock doing what she does best and flexing her finely honed comedic chops. And we've got our sweaty mitts on the brand new trailer because we all know it's important to get your Sandra Bullock fix on a Monday lunchtime.
We're feeling good about this. Almost as good as Sandra Bullock felt at the end of The Lake House when she was reunited with Keanu Reeves. Or when Sandra Bullock won the "Miss Congeniality" award at the end of Miss Congeniality. Or that bit in Practical Magic when Sandra Bullock realised her sister was Hollywood royalty Nicole Kidman. That was a great time for everyone, especially Sandra Bullock.
Seriously though, this looks good. The idea isn't exactly fresh – uptight, plays-by-the-rules cop gets paired with a maverick partner – but we're fairly sure that in the hands of two comic talents such as Sandra Bullock and Melissa McCarthy, The Heat will be funny, likeable and no doubt have a few tricks up its sleeve.
Our favourite moments of the trailer include:
1) Excellent use of M.I.A.'s "Bad Girls"
2) Sandra Bullock smashing her glass during a cheers
3) Sandra Bullock playing almost exactly the same role she played in Miss Congeniality 2: Armed and Fabulous
4) The way Melissa McCarthy says "157,000 times"
The Heat is coming to our screens on the 5th April 2013. So what do you think? Tired rehashing of previous buddy cop films or funny pastiche of an old formula? Too much Sandra Bullock or not enough? Let us know below!
About The Author