Sandra Bullock, Melissa McCarthy and Paul Feig join forces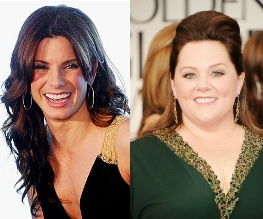 Having massaged the funny guts of humans world-wide with their teamwork on Bridesmaids, it's probably no surprise to anyone that Melissa McCarthy and Paul Feig are preparing to dive into another project together. And now it looks like Sandra Bullock wants to get a piece of the action – agreeing to join McCarthy in a Feig directed buddy-cop comedy. Remember how Sandra Bullock is funny? Remember that? Before she got all white guilt?
There's not a lot to dislike about this news, to be honest. The as yet untitled project will see Bullock's highly strung, by-the-book-dammit agent paired up with McCarthy's renegade as they try and take down a Russian gangster of some description. Does that sound like every other buddy cop film ever made? Yes. Does that matter? Not really. There's always room to imbue that old formula with freshness – just look at last year's utterly brilliant The Guard. Anyway, all the evidence point towards Feig and McCarthy being an excellent team, and frankly it's about time we saw Bullock in a comedy that wasn't totally dreadful. We believe in you, Sandra. We know that Miss Congeniality 2: Armed And Fabulous wasn't your fault.
Missed seeing Bullock with a massive gun? We know you have. Talk to us about your needs below:
About The Author