Saoirse Ronan joins Order of the Seven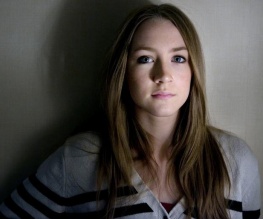 Saoirse Ronan is the latest actress pegged to take over a classic fairytale role, as Disney's long-dormant Snow White adaptation finally begins to gather speed.
The Lovely Bones star, 17, is reportedly in talks to star in The Order of the Seven, a film originally based on the Brothers Grimm's anti-5-a-day tale but now not officially associated with it at all.
If cast, Ronan will play Olivia Sinclair, a British ex-pat in 19th Century Hong Kong who seeks the protection of "a centuries old group of warriors, now a jaded group of outlaws" when some sort of badass evil empress shows up. Sinclair then "helps the warriors reclaim their destiny and noble roots", which is very nice of her.
When first developed way back in 2002 the film was called Snow and the Seven and incorporated more elements of the traditional fairytale, including a magic mirror and a homicidal stepmother. However, The Order of the Seven is very much an action adventure in its own right and is keen not to look too much like Disney just couldn't find any spare dwarfs (they're all filming The Hobbit). In order to give the production an international flavour and secure success in foreign markets, casting agents are currently scouring Russia, China and Japan for major stars to join the band of warriors (please try and resist Chow Yun-Fat, you guys).
Visual effects maestro Michael Gracey is set to make his directorial debut, whilst approximately every writer in Los Angeles has worked on the script in the past decade. In other news, Snow White and the Huntsman and Mirror Mirror are still happening, this isn't a replacement for one of them or something. THREE, THREE SNOW WHITE FILMS WHAT THE DICKENS IS THIS?
Which Snow White is your favourite – 'Miserable' Kristen Stewart, 'Abducted' Lily Collins or 'Raped-By-Stanley-Tucci' Saoirse Ronan? Let us know below!
About The Author