Saoirse Ronan to play Mary, Queen of Scots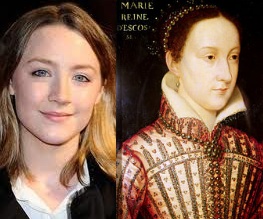 Still so young and managing to clock up a serious number of impressive, Academy nominated roles. That's what Saoirse Ronan should whack all over her CV. In fact, that's all her CV needs to say. This young lady rules! Speaking of ruling, Ronan is taking on the role of doomed Scottish queen, Mary, in her latest film outing. Mary had a bit of a sad life really, betrothed at birth, lover got murdered in front of her, related to the batty Medici family and cousin to one seriously fiery redhead. Still, she managed to live until she was forty four before her life was cut short (groan…) which is a lot better than a lot of other Tudor dudes…
The film is being made by Working Title and whilst there are no other names attached to the project as of yet, expect to see some major players coming very soon. In this film version, the action will focus on the earlier years of Mary's life and possibly the taut relationship she had with her mother-in-law, Catherine de Medici and her three failed marriages. Seriously, this woman had more men on the go than Katie Price.
Many other famous actresses have stepped into Mary's bloodsoaked shoes over the years, including Samantha Morton, Vanessa Redgrave and Katharine Hepburn. Having seen a lot of Elizabeth I over the years (in the form of Cate Blanchett) it will be good to see a bit of the story from the flip side.
No other details as of yet but we have our fingers crossed for a stellar lineup.
About The Author