Scorsese may delay The Wolf of Wall Street until 2014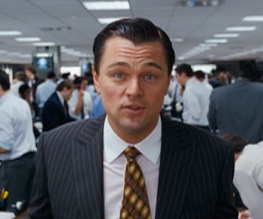 Insider gossip suggests that due to an increasingly complicated editing schedule, Martin Scorsese's The Wolf of Wall Street may not make it to our screens until next year. To which we say… fair enough. Ain't nobody at BFF got the balls to argue with Marty.
The film, which stars Leonardo DiCaprio, Jonah Hill and Matthew McConaughey and is obviously going to be brilliant, is based on the memoirs of crooked stockbroker Jordan Belfort. It marks a number of milestones – Scorsese's fifth collaboration with DiCaprio, his second with Boardwalk Empire scribe Terence Winter, and the first time that Scorsese, a passionate defender of celluloid, has chosen to shoot a 2D film digitally. It's also over three hours long, cost $100m and is definitely, definitely not going to be ready for its planned release date of November 15th.
A number of sites are reporting that Paramount is prepared to clear the decks in order to keep The Wolf of Wall Street, which is likely to be both a critical and commercial success, on the slate for 2013 – not only to cash in on the holiday crowds but also to keep it in consideration for the Oscars. Should Scorsese be able to finish his work in time, the powers that be apparently plan to shunt Tom Clancy reboot Jack Ryan, currently scheduled for a Christmas release, into next year to debut in mid-January – the spot that did so well for Cloverfield a few years back. We're not fretting too much about when we get to see Jack Ryan, since the unholy confluence of Chris Pine, Keira Knightley and Kevin Costner seems to be a calculated attempt to win Worst Cast at the Razzies.
So, in conclusion – maybe we'll get to see The Wolf of Wall Street this year, maybe we won't. Either way it's going to be brilliant. Here, have another look at the trailer:
Drool.
Will you be seeing The Wolf of Wall Street? How about Jack Ryan? Yeah, good decision.
About The Author