Selena Gomez says bye bye Disney in new Spring Breakers poster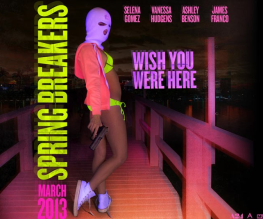 A brand new poster for Harmony Korine's drama Spring Breakers has emerged, and it's wild. It sports a girl (clue: ex-Disney princess) in a neon bikini carrying a gun and wearing a ski mask with a unicorn on it. There are a lot of bright colours, and the words Selena Gomez and Vanessa Hudgens somewhat bizarrely attached to the side. That's because these "good girls have gone bad", leaving behind their Disney image and instead making out with each other – proper girl on girl style.
Check out the sexy in this (click to enlarge):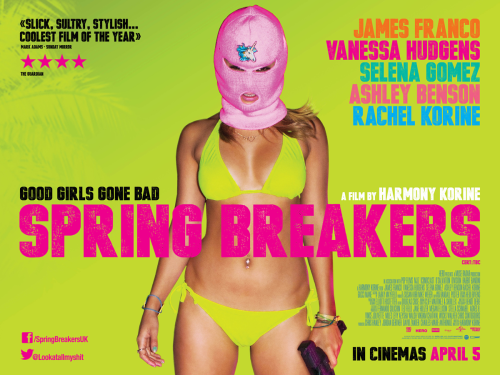 We weren't actually sure who was under that fetching pink ski mask, so in true trashy magazine style, we did some digging and unearthed a picture of Selena Gomez wearing a yellow bikini in photos from Spring Breakers. AHA! She'll be playing James Franco's devoted bitch and Vanessa Hudgen's make-out partner (our guess) and is joined by a cast of similar ex-Disney starlets including Glee star Heather Morris and Ashley Benson, whose appeared in films like Bring it On: In It to Win It and so forth. Everyone's called something like "Bess", "Faith", "Brit", "Candy" and "Cotty". We LOVE cool street names here at BFF.
Spring Breakers essentially follows four college girls who attempt to rob a restaurant in order to pay for their Spring Break. They land themselves in jail and are bailed out by drug dealer/pimp Alien (Franco) who involves them in his varying degrees of dirty work. Directed by Harmony Kovine, known more for his leftfield films (Trash Humpers) than anything with Justin Bieber's ex-girlfriend in, Spring Breakers genuinely looks set to be awesome. The trailer looks great – just the right amount of hardcore boozing, drug dealing, pimping and flesh to bring in the punters.
Check it out for yourself!
Spring Breakers hits UK cinemas in April this year. We approve heartily of the film already, do you? Let us know!
About The Author