Seth Rogan Announced for Buddy Cop Spoof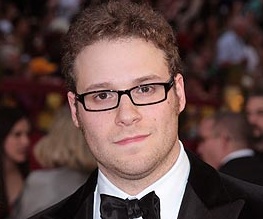 Seth Rogan is set to team up with American comedian Kevin Hart for a comedic buddy cop movie from the pen of writer Rodney Rothman. Rothman, who has long been part of the Apatow gang with production credits on Get Him to the Greek, Forgetting Sarah Marshall and the upcoming Five Year Engagement, has said the idea is something he's had planned for quite some time. That seems fair. It's not like Hollywood has got much mileage out of laughing at cop movies in the past, unless you count 21 Jump Street, The Other Guys, Cop Out, The Naked Gun series, National Lampoon's Loaded Weapon, Observe and Report, Beverly Hills Cop, White Chicks, Dragnet, Bulletproof, Super Troopers, the Rush Hour movies, Turner and Hooch, Starksy and Hutch and Police Academy 1, 2, 3, 4, 5, 6 and 7:Mission to Moscow. 
But wait one moment before we (OK, before I) begin snarkily sneering at this latest example of Tinseltown's creative dearth. Apparently Rothman wants to tell the story of L.A.'s first ever inter-racial police team, working in post World War 2, jazz-era Los Angeles which actually sounds like it might be kind of intriguing and, dare we say it, a teensy bit original.
OK, OK, we're slightly interested.
About The Author