Seyfried and Crowe reunite for Fathers and Daughters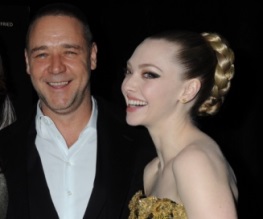 Les Misérables co-stars Russell Crowe and Amanda Seyfried are to appear onscreen once more in Gabriele Muccino's new drama Fathers and Daughters, which is set to be absolutely awful.
The Italian director's new project was only announced on Monday, so Seyfried has obviously been in his sights for some time. The Lovelace star will play the adult version of Russell Crowe's character's daughter (following this so far?), whose present-day attempts to deal with her difficult childhood will be intercut with thirty-year-old scenes showing her character as a five year old, being raised by Russ as he battles mental illness. No word yet on whether Crowe will even be alive in Seyfried's timeline, although we're guessing that he'll turn up at the end either way.
Muccino is best known for sentimental Will Smith vehicles The Pursuit of Happyness and Seven Pounds, so we're assuming Fathers and Daughters will be almost offensively touching in its pursuit of the perfect shot of Seyfried weeping as she realises that for all his faults, Russell was the best dad he knew how to be. And we haven't even mentioned his most recent film, the unforgivable Playing for Keeps, yet. Nor shall we; there ought to be rules against reminding people that it was ever made.
Can you be bothered with this? Really? Life's too short, is our feeling.
About The Author