Shailene Woodley is charming in the trailer for The Spectacular Now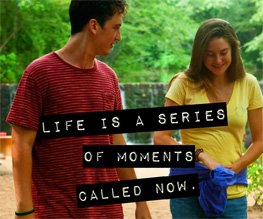 Sad to hear that breakout star of The Descendants Shailene Woodley won't be appearing in The Amazing Spider-Man 2? Well fear not, friend! Because you'll be able to get your eyes all over her in this other thing! It's called The Spectacular Now and is scripted by Scott Neustadter and Michael H. Weber, otherwise known as the guys behind (500) Days of Summer. The Spectacular Now – yeah, that title is going to annoy us – tells the story of an unlikely teen romance between party animal Sutter (Miles Teller) and wallflower Aimee (Woodley). But what are you listening to us babble on for, watch the trailer already you jerks!
So this looks vaguely in the same vein as last year's The Perks of Being A Wallflower i.e. it's lots of teenagers with vintage record collections saying earnest things and deciding to enjoy life yadda yadda yadda. At the same time it looks like it boasts some great performances from its leads, Woodley in particular. Ultimately, we have faith in Neustadter and Weber and we're pretty sure we can trust newbie director James Ponsoldt – the man who'll be taking on the Hillary Clinton biopic, Rodham.
The only thing really putting us off at the moment is the quantity of inspirational quotey photos on the film's Facebook page. But hey, teenagers be Instagrammin' right?
Got high hopes for The Spectacular Now? Let us know your thoughts below!
About The Author