Shailene Woodley to miss out on Spider-Man. Again.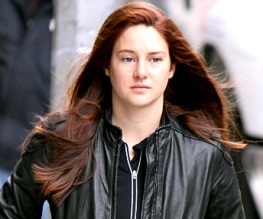 We do feel for Shailene Woodley. Way back in June, we reported that the Descendants star had been dropped from The Amazing Spider-Man 2 after filming several scenes as Peter Parker's long-term love interest Mary Jane Watson, and at the time our intrepid reporter Vincent predicted that "Shailene Woodley may not be available for The Amazing Spider-Man 3 or 4. Her star has been rising fast… and her schedule is rather full. This means that Marc Webb may choose to recast Mary Jane for The Amazing Spider-Man 3." And, alas, it looks like he was right.
Speaking at Sundance, where she's promoting Gregg Araki's new thriller White Bird in a Blizzard (she is in it, she's not just really kind-hearted), Woodley more or less denied that she'd be appearing as planned in The Amazing Spider-Man 3:
"I don't know anything, but seeing as how they picked up the next two Divergent films, I don't know how I would keep my sanity with two big action films in one year."
Divergent, the latest awful-looking YA adaptation to roll off the conveyor belt, is due out in March and stars Woodley as some sort of sassy teenager in a post-apocalyptic Chicago. Its sequels Insurgent and Allegiant will be released in 2015 and 2016 – so, even taking into account Woodley's chirpy, oh-lord-did-I-say-too-much caveat of "Nothing's impossible!" (loads of stuff is impossible, Shailene), it looks like Vincent's dire prediction was more or less on the money. We'll probably be seeing Mary Jane, but she almost certainly won't have Shailene Woodley's face.
Boo. Still, can't be helped – who do you think should inherit the role? Let us know below!
About The Author