Shailene Woodley wanted for The Fault in Our Stars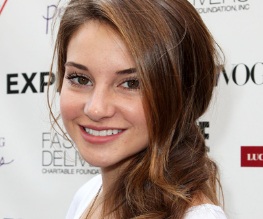 Shailene Woodley is being considered to star in The Fault In Our Stars in the lead role of Hazel Grace Lancaster. The Fault In Our Stars is an big screen adaptation of the novel of the same name by John Green. It follows two people, Gus and Hazel, who fall in love after meeting in a cancer support group. They resolve to live their life to the fullest in the time they have left together.
Although it sounds like something Nicholas Sparks would have pulled out from his Demonic Book of Rom-Com Tropes, the fact he has nothing to do with this film already makes it sound promising. Josh Boone, the director of Stuck in Love, will direct from a script written by Scott Neustadter and Michael Weber.
Boone has spoken fondly of The Descendants star Woodley, who described her audition as "lightning striking". He said: "During our exhaustive search to find Hazel Grace Lancaster, I saw some stunning auditions by today's finest young actresses. Over 250 girls read for the part, but it wasn't until Shailene stepped in front of the camera that I truly saw Hazel for the first time. It was like lightning striking. I can't wait for the rest of the world to see what I have." Woodley is currently filming the sequel to The Amazing Spider-Man, in which she plays Peter Parker's love interest Mary Jane Watson.
About The Author