Shawn Levy to produce Sesame Street film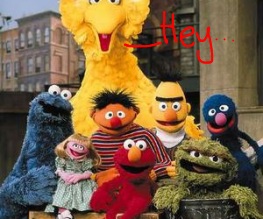 Will it never end? All week we've been dodging rumours about the possibility of a Breaking Bad film (it's not even finished showing on TV yet), and now iconic Jim Henson show Sesame Street has become the latest in an endless stream of telly-to-cinema adaptations conceived of by studio execs unwilling to just let a good TV show do its own things.
Millions of children have thrilled to the not-particularly-interesting exploits of Elmo, that massive canary chap and the various other denizens of the Street for more than forty years, and its combination of entertainment, education and nostalgia (for parents at least) virtually guarantee its success on the big screen.
Long-time Street writer Joey Mazzarino is on board to write the script for backers 20th Century Fox, while Night at the Museum and Real Steel director Shawn Levy is inexplicably producing, because God knows a CV packed with robot boxing and Steve Coogan playing a tiny Roman is the obvious background for dealing with the number C and the letter 7. Or whatever.
Did you watch Sesame Street as a kid? Would you see the movie? Let us know below!
About The Author