Shia LaBeouf is a possible nymphomaniac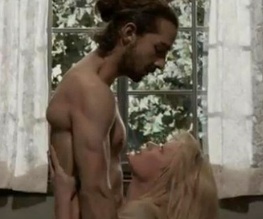 Run and hide film fans! Before Charlotte Gainsbourg can make us all vomit in our mouths again by crushing Willem Dafoe's balls to death! It seems that Lars von Trier was not entirely satisfied after his first sexual horror outing and has decided to give it another bash. Can't he just make do with a post-coital cigarette like a normal person? We're not sure Dafoe's scars (or ours) have healed yet…
To make the already horrifying sounding Nymphomaniac ever more scary is the news that Indiana Jones destroyer, Shia LaBeouf is in talks to join the cast. Although he is trying to take on more roles with fewer robots these days like Lawless no matter how hard he tries he somehow always manages to fall a bit flat.
Stellan Skarsgård and Charlotte Gainsbourg are already confirmed for the project with Nicole Kidman and Willem Dafoe also rumoured to appear. The film is about Joe (Gainsbourg), who is found one cold winter's evening beaten up in an alleyway by charming bachelor Seligman (Skarsgård). Seligman takes her home to his flat where, according to the official blurb "he tends to her wounds while asking her about her life. He listens intently as Joe over the next 8 chapters recounts the lushly branched-out and multi faceted story of her life, rich in associations and interjecting incidents."
Hmmm…no mention there about any vile sex scenes, although we are still warier than a bunny trying to cross the road with this one. It actually sounds a lot more like von Trier's Dogville, which was really rather good even though it was close to being a gazillion years long. Just keep it clean, Lars…no one wants to see another female genital mutilation…
Have you had your balls crushed by Charlotte Gainsbourg lately? Tell us what it was like.
http://credit-n.ru/offers-zaim/greenmoney-online-zaymi-za-20-minut.html http://credit-n.ru/zaymyi.html
About The Author