Silent Night, Deadly Night remake has a trailer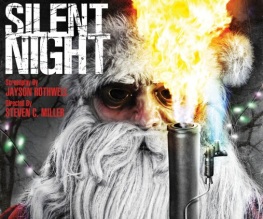 Silent Night, Holy Night, all is calm, everyone is dead from axes. You know that old Christmas song! MERRY NEARLY CHRISTMAS EVERYONE! Have you got your stockings and your tree and your mince pies and your iPods and your ribbons yet? No?! Well then you better get down to the shops pronto because apparently Christmas has arrived. How do we know? Because a trailer for the remake of kitsch 80s horror Silent Night, Deadly Night is now in existence. Starring Jaime King and Malcolm McDowell, the remake – simply titled Silent Night because people have shorter attention spans these days – tells the story of a town terrorised by a murderer in a Santa suit, who starts taking out the "Naughty" people with extreme prejudice.
So check out the trailer for Silent Night and see what you think:
Weirdly, we do think this could be good fun. It's got enough of a silly air to it to make it tongue in cheek and the creepy Santa mask/barmy inclusion of Malcolm McDowell is cool. Plus, lots of inventive killing, which will probably be an improvement upon the original Silent Night, Deadly Night in which it was mainly people getting shot with handguns:
Silent Night, Holy Night, we love trailers for Silent Night remakes. Do you? Do you LOVE Silent Night? Of course you do. IT'S CHRIIIIIISTMAS!
About The Author