Sin City: A Dame To Kill For delayed almost a year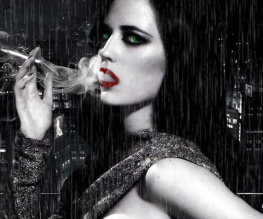 Sin City: A Dame To Kill For, the long-awaited sequel to weird noir action-thriller Sin City, has been pushed back almost an entire year. Robert Rodriguez and Frank Miller's project has finished principle photography, but post-production has been taking a little longer than expected – they have a lot of random objects to colour amongst all the black and white. The new release for Sin City: A Dame To Kill For is now 22nd August 2014.
Sin City: A Dame To Kill For reunites quite a lot of the cast from Sin City, including many who died in gloriously bloody ways. Bruce Willis, Rosario Dawson, Mickey Rourke and Jessica Alba (ugh) will all be noir-ing about once more, and this time they'll be joined by Eva Green (yay), Joseph Gordon-Levitt (YAY), and Ray Liotta (…). Let's hope one of them has the unforgettable charm of the yellow knobless paeodphile from Sin City.
Robert Rodriguez builds great relationships with all of his actors on set, so it's no surprise that so many chose to return for Sin City: A Dame To Kill For. That, or he just chooses sub-par actors who find it difficult to find work with any other director apart from Robert Rodriguez. Whatever the case, it's working.
No one was particularly pumped for Sin City: A Dame To Kill For. Sin City was an enjoyable film, but not one that demanded a sequel. On the other hand, the news that it has been delayed from October 2013 to August 2014 comes as something of a disappointment – we're always up for Robert Rodriguez's unique style. It's possible that the massive delay was due to the release of Machete Kills, another Robert Rodriguez project, this September. Perhaps the studio thought that there's only so much Rodriguez madness we could take in a single calendar year.
We can only hope that the extra time for post-production will ensure that Sin City: A Dame To Kill For is a worthy follow-up.
Disappointed at the delay of Sin City: A Dame To Kill For? What did you think of the first Sin City? Let us know below!
About The Author