Slasher-flick Detention trailer released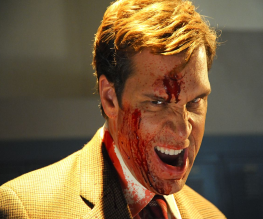 If the idea of vacuous cheerleaders, nerd-pulping jocks and misunderstood, marginally intellectual ugly-pretty girls (who secretly yearn to be vacuous cheerleaders sexually subjugated by said nerd-pulping jocks) conjures images of every teen flick inflicted upon humanity, your cerebral adroitness would be right on the money. Add in some wholesome stab-athons and festive blood-besplattered fancy-dress, and you've got yourself the good 'ole hackneyed teen-screamfest and the Holy Grail of slasher-settings – prom night.

Now throw in an alien spacecraft, and Dane Cook as high school principal.
If the total sum of these parts equals to WTF, your powers of mental arithmetic have not failed you.
Yes, music video veteran Joseph Kahn's (think Muse's Knights of Cydonia, Eminem's Without Me and Korn's A.D.I.D.A.S.) low-budget thriller debut, Detention, features such trope-homogeneity as bloody prom dresses, extra-terrestrials, and most shockingly, Dane Cook sporting a side-parting:
According to io9.com, Kahn has described the oddly interesting film as, well, "indescribable" – "genre wise", and his statement pretty much sums up just why this film could prove to be…better than the sum of its contrived parts: no parameters, little expectation.
But as far as the trailer goes, it's difficult not to shiver with just a little anticipatory hope: Detention looks to mirror the reflexive, saturnine wit of Wes Craven's Scream, but at the same time appears to somehow (movie-god willing) avoid the bile-inducing parody that the postmodern masterpiece's successors went on to exploit. Oh yes, and there's some kick-ass camera-work – just one of the perks of having a rather universally famous music video fundi as the director.
If a hopeful stab at the meta-film style/kind-of-slasher-flick-but-spaceships-negate-the-label-genre is not enough to convince you to go to Detention later this year, perhaps the idea of obnoxious, self-important pubescents getting some long overdue corporal (and capital) punishment will be.
See you in detention.
About The Author