Snaps from Baz Lurhmann's Great Gatsby leaked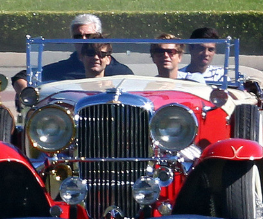 Unless Leonardo DiCaprio is suffering a mid-life crisis compelling him to travel by means of antiquated vehicle, we have reason to believe the first scene-setting snaps from the latest adaptation of The Great Gatsby are here.
Currently filming on Baz Lurhmann's home turf in Australia, the F. Scott Fitzgerald adaptation will be on our screens late next year. Leo has reunited with Romeo + Juliet director Lurhmann to play Jay Gatsby alongside Tobey Maguire as Nick Carraway and Carey Mulligan as Daisy Buchanan.
We're hoping the lavish style Lurhmann employed for Moulin Rouge and Romeo + Juliet and the epic cinematography of Australia will combine to bring us a dazzling take on the roaring 20s of Fitzgerald's classic novel.

We'll have to wait until December 2012 for this one.
About The Author