Snow White and the Huntsman sequel on the way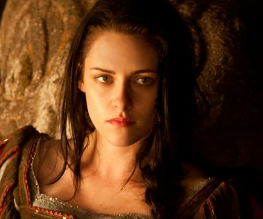 Considering how relatively impressed we were with Rupert Sander's directorial debut Snow White and the Huntsman, we're actually quite up for seeing what he can do with a sequel. Especially seeing as someone very canny has taken him off scripting duties and stuck veteren mega-worder David Koepp in his place. WELL DONE, CANNY PERSON.
So, a sequel to the moody-fighty fairytale has been approved by Universal, and by all accounts (and by that we mean according to Deadline) it might actually turn out to be the second film in a trilogy. Having shown his ambition in the surprisingly LOTR-like take on the fairytale, it will be interesting to see if he can push his stunning visuals even further. And if this time around there are actually some characters, all the better. David Koepp – penner of classics like Jurassic Park, Death Becomes Her, Mission Impossible and more – has agreed to write the script, we're guessing mainly because he'll have nothing much to do after he releases his latest directorial effort: the CYCLE-FEST that is Premium Rush .
Up for a bit more of Hemsworth being all surly? And Theron being surly? And that Twilight lass being quite surly? TALK TO US:
About The Author