Spanking new trailer for Snow White And The Huntsman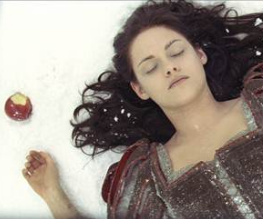 It's been a while since we got any Snow White And The Huntsman action, which is convenient seeing as we've all been taken up with worrying about what nonsense Mirror Mirror looks by comparison. Helpful then that team Huntsman have released a new, rather excellent trailer, finally rubbing out any doubts as to which film is pandering to what audience. This is gothic action all the way, and actually, we're rather looking forward to it.
Take a look at the trailer below, and try not to fall in love with the MAD BLACK CROWS EVERYWHERE ARGH ALL IN MY HAIR disappearing trick:
Could this be exactly what Kristen Stewart needs in order to break from the constraints of playing Miserable Tooth-Bait? Charlize Theron is obviously in her element as the wicked queen – though we're beginning to suspect there is no such thing as a non-Theron element – and Chris Hemsworth is happy doing his Thor thing as the huntsman ordered to sacrifice Snow White to a dark and corrupt empire. It's the action sequences that really pique our interest, looking both gritty and physical (MASSIVE AXE YEAH) and stylishly abstract (BLACK GLASS EXPLODEY YEAH). So it's fair to say that it certainly won't be competing with the family-focussed Mirror Mirror – but considering its release date (1st June) it may very well have Prometheus to contend with… Would one get your vote over the other?
About The Author