Stallone may not direct Expendables 2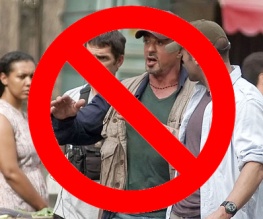 Best For Film would rather The Expendables 2 didn't happen. To be perfectly frank, Best For Film would be pretty chuffed if someone would nip back in time a couple of years and break Sly Stallone's back before he ever put pen to paper (or knife to erstwhile assailant's back, as may have been the case) before he ever had a chance to scrawl/carve the beginnings of its lacklustre script, let alone scoop up a megaphone and actually direct the bloody thing.
But since this isn't likely, and our industry clout isn't quite up to putting the ixnay on the entire sequel project, we're reasonably happy with the news that Stallone may be keeping his dubious talents in front of the camera this time round. A well-connected source has apparently claimed that the Rocky and Rambo star will be keeping his lead role as Barney 'The Schizo' Ross, but an as yet unnamed director will be taking over the little canvas chair.
Stallone will also take more of a backseat role on script development, with David Agosto and Ken Kaufman (both currently working on Wardogs) slated to handle the bulk of the writing. We've also heard that, fresh from the Governatorship, Arnold Schwarzenegger could be returning to his uncredited role as former Expendable Trench – a more-than-fifteen-second appearance from Arnie wouldn't be enough to make the film watchable, but it could help. A bit. Sigh.
About The Author