Star Trek Into Darkness gets new amazing trailer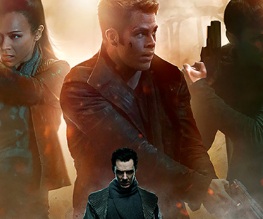 Star Trek Into Darkness rolls out in cinemas next month, and this latest trailer is making us pretty excited about it. This one ramps up the tension between Captain Kirk (Chris Pine) and self-made terrorist played by Benedict Cumberbatch (allegedly called John Harrison), with Cumberbatch doing his gravelly-voiced thing throughout. "No ship should go down without her Captain" says Harrison midway through the clip. He looks and sounds absolutely terrifying. Watch it below right bloody now:
Fan-service is carried out by means of explosions, alien worlds, and the famous ship rising slowly from beneath the sea bed. Zoe Saldana smoulders in every shot and doesn't do much else, while Pine is proving himself to be a pretty amazing Kirk and every bit as iconic as William Shatner was.
The focus this time around seems to be the relationship between Kirk and his crew, with his maverick and headstrong personality landing them in hot water on more than one occasion. Part of what will make this sequel good is that Kirk, Spock, Uhura et al were so well developed the first time around. Hopefully Cumberbatch's baddie can stand up to an already strong group of characters.
About The Author