Star Trek Into Darkness gets some hi-res stills!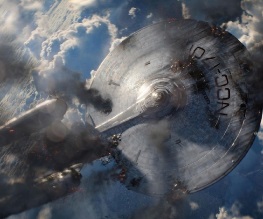 Star Trek Into Darkness isn't zooming into cinemas until the summer, but that doesn't mean our innermost Trekkie desires have to go unsated. In fact, thanks to the latest selection of high quality film stills on offer, you can almost pretend you've seen through the movie. All you have to do is click through them very fast and use your imagination.
The selection of images show the crew of the good ship Enterprise in a series of compromising situations, including Lieutenant Commander Dr. Leonard "Bones" McCoy (Karl Urban) clutching a mobile phone, John Harrison (Benedict Cumberbatch) being fitted for new water wings, Spock (Zachary Quinto) in a spacesuit he clearly stole from the Prometheus set and plenty more besides.
Check them out for yourself below – and don't forget to click on the stills to see them in all their fullsize glory.
See what we mean? We particularly like how, in the last snap, the Star Trek cast are all staring upwards and intently at the ceiling – could there be something of a "new life and civilisation" scuttling around up there? And what's been playing on those telescreens to get Spock and Uhura (Zoe Saldana) looking so damn worried? Some sort of badly-budgeted Vulcan-human porn film, we bet.
Star Trek Into Darkness will hit UK cinemas on May 9, bringing with it the return of Chris Pine, Zachary Quinto, Karl Urban, Zoe Saldana, Anton Yelchin, Simon Pegg, John Cho and Bruce Greenwood – as well as newbies Benedict Cumberbatch and Alice Eve. We can't wait to see them step aboard the USS Enterprise and head off on a "deadly manhunt" across SPACE ITSELF!
Are you looking forward to Star Trek Into Darkness? Why not?
About The Author