Star Wars VII could feature wookiees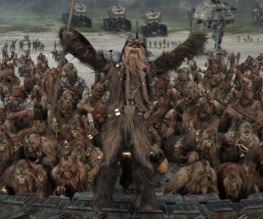 MARVELLOUS news, hairy alien fans! The latest piece in JJ Abrams' Star Wars puzzle has slotted into place, and it looks like a Wookiee may be joining the principal cast for the first time since Return of the Jedi.
Den of Geek uncovered a casting call by UK agency Spotlight, issued on behalf of an untitled project by 'Walt Disney Pictures/Lucasfilm/Bad Robot' with producers named as Kathleen Kennedy, JJ Abrams, Bryan Burk and Tommy Harper. Filming is set for early 2014. All sounding familiar? We thought so. And here's the droid they're looking for:
Male, 7 ft to 7'3 ft tall with a slim/thin build and upright posture. Not too worked out or too 'thick set' especially in the shoulders. Broad facial features would be a bonus.
Now, what can you tell us about Peter Mayhew, the actor who played Chewbacca throughout the original trilogy? Is it that he's 7'3″ and slim with a face so broad it looks like he walked into a frying pan? It is, isn't it? Make no mistake – if we're not heading to Kashyyyk in 2015, Kashyyyk is heading to us. Abrams has said that his plans for the new trilogy are much more 'real places with special effects' than 'ghastly CGI cities covered with the digital turds of digital monsters', so we're hoping to see the Wookiie homeland recreated in the Forest of Dean and the Wookiies themselves made, as tradition demands, from horrible old rugs and 70s mohair suits.
Will you be auditioning to play TWObacca? Let us know below!
About The Author