Stephen King expresses Shining prequel reservations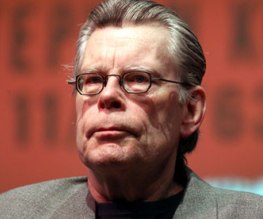 Iconic horror author Stephen King has expressed guarded doubts about the planned prequel to The Shining. Stanley Kubrick's 1980 adaptation of King's landmark novel was a huge (if slow-burning) success both commercially and critically; in an apparent attempt to replicate its enduring appeal, distributors Warner Bros have approached Walking Dead supremo Glen Mazzara to write a script for The Overlook Hotel, a project exploring the bloodstained early history of the world's most unnerving Travelodge.
During an EW interview about Doctor Sleep, the novel which King is currently writing as a sequel to The Shining, the author expressed doubt in Warner Bros' apparently confidence that they still own the rights to his book. Here's what he had to say:
"There's a real question about whether or not they have the rights to 'Before the Play', which was the prologue cut from the book — because the epilogue to the book was called 'After the Play'. So they were bookends, and there was really scary stuff in that prologue that wouldn't make a bad movie. Am I eager to see that happen? No I am not. And there's some real question about what rights Warner Bros. does still have. The Shining is such an old book now that the copyright comes back to me. Arguably, the film rights lapse — so we'll see. We're looking into that."
Hmm. King's position certainly makes sense, and it's nice to see that he doesn't seem to object to the film on creative grounds. King had quite a lot of involvement in the production of the original film, vetoing Robert De Niro, Robin Williams and Harrison Ford for the central role of Jack Torrance (Jack Nicholson was Kubrick's first choice, so we presume the other names came at the studio's behest). Maybe he'd be up for the film if he was consulted? Either way, it sounds like he isn't going to shut things down for the sake of it:
"I'm not saying I would put a stop to the project, because I'm sort of a nice guy. When I was a kid, my mother said, 'Stephen if you were a girl, you'd always be pregnant'. I have a tendency to let people develop things. I'm always curious to see what will happen. But you know what? I would be just as happy if it didn't happen."
Well, that's… that's baffling – there's a horror film for you, Stephen King hugely pregnant and living in your wardrobe watching you "develop things". Although King himself was never a huge fan of The Shining – he thought casting an 'everyman' actor like Christopher Reeve would have been more subtle than using Nicholson, whose Oscar-winning turn in One Flew Over The Cuckoo's Nest meant everyone was expecting his character to go mad – interest in the film remains consistent, with last year's documentary Room 237 highlighting its staying power.
Would you like to see The Overlook Hotel, or do you think King should stop the film? Let us know below!
About The Author