Steve Coogan joins My Idiot Brother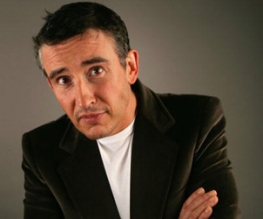 Comedy legend Steve Coogan is to play the part of a "self-righteous documentary filmmaker" in the indie comedy My Idiot Brother.
The Jesse Peretz-directed film is being shot in New York with a cast including Paul Rudd (who I will forever refer to as 'Phoebe's husband'.)
The script was penned by Evgenia Petertz and David Schisqall, and is reportedly about the trivialities of family life.
Phoebe's husband will be playing the eponymous Idiot, whose relationship with his overbearing mother and three smarter, more successful sisters is the basis for the comedy.
Mixed opinions have been expressed over Coogan's involvement with the film. While some herald the man as a comic genius, others have been scarred by the travesty that is the Night at the Museum franchise and have accused the former Alan Partridge actor of giving his films 'the kiss of death'. At Best for Film, we think that as long as you don't expect indie in the edgy, independent sense, but in the not-really-indie-in-any-sense-at-all sense, then we might find that Coogan delivers some real character to our screens.
My Idiot Brother will be released in 2012.
About The Author