Stoker gets first set of creepy family photos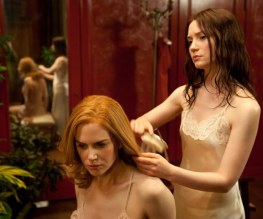 Park Chan-wook has mastered the art of suspense. Aside from his outstanding thriller-horrors such as Oldboy and Thirst, director Park knows how to tease his audiences. So far this year we've had an astonishing brand new trailer from his upcoming English-language film, Stoker, and now 17 (17!) new photos have been released from the film. We've only got 6 here for you, because we're stingy that way (these 6 are the best), but even so, feast your eyes on these creepy but ever so stylish familial shots featuring Mia Wasikowska, Nicole Kidman and Matthew Goode as 'Uncle Charlie'.
Click on the images to enlarge!
These new images seem to encompass the Stoker style that we've so far been treated with in the trailers; eerie, serene, aesthetically sleek and poetic. We've yet to be disappointed by Park so we're expecting a sublime English-language debut. And will we be witnessing the birth of a new screenplay prodigy in Ted Foulke, a.k.a. Prison Break's Wentworth Miller? From what we've seen and heard so far, we may be in for a sink or swim (our money's on a swimmer).
Stoker follows the story of India (not the country) played by Wasikowska, whose father dies in a car accident. So begins a family who are torn apart by the arrival of India's uncle (Goode) whereupon her mother (Kidman) is charmed by Uncle Charlie's affections. But Charlie has darker matters up his sleeve, when he attempts to draw India to him as well…
If these photos aren't enough stunning for you, check out Stoker's jaw-dropping illustrated poster, featuring a dark, fairy tale, Pan's Labyrinth vibe. God, we're stoked.
What do you think of Stoker's new photos? Will you be the first in line when it comes out on March 1st? Tell us below!
About The Author