Stoker gets stunning new teaser and poster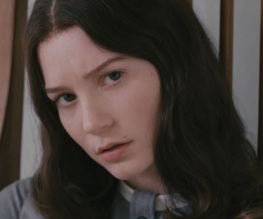 Stoker has already had a full trailer released – and it's excellent – but this new teaser for Chan-wook Park's debut English language film is something else entirely. The art of trailers without words is a growing one, and it's one that we're thoroughly in favour of. Not that we don't like words – they're sort of our whole thing – but sometimes less is more. And sometimes, particularly in a trailer, music can convey the feel of a film more than any line of dialogue.
Akin to a music video, the teaser is set to the song Becomes The Color by Emily Wells (which will also feature as the film's closing credits music), and is entirely wordless; a montage of creepy images and moments from the film that give a brilliant flavour of what to expect, all the while inter-cut with footage of various hands drawing pencil images, which ultimately combine at the end to form the beautiful new poster for the film. The poster itself features plenty of imagery that's significant from the film. Click to enlarge and take a look at its many secrets below.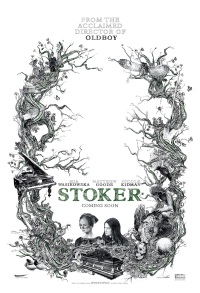 Written by Wentworth Miller (yes, the Prison Break guy) and starring Mia Wasikowska, Nicole Kidman and Matthew Goode, everything we've seen of Stoker thus far looks incredible. Dark, creepy and atmospheric, the plot concerns a family torn apart when Nicole Kidman's husband dies in a car accident, only for his mysterious brother to turn up and begin drawing Kidman to him and – more significantly – her daughter, as played by Mia Wasikowska. While the promo material has kept its cards close to its chest, it's a fair bet that there's more to Matthew Goode's Uncle Charlie than meets the eye…
Chan-wook Park is a great director, and it looks like the switch to the English language hasn't tempered his creative flair (just witness that gorgeous transition from hair to grass in the trailer), and with a classy cast and what seems to be an effectively dark supernatural psych-drama of a plot from Miller, Stoker looks like it might be something of a surprise package come March 1st 2013, when it's released.
What do you make of the new trailer? Are you stoked for Stoker? Sound off below.
About The Author