Studio Ghibli release trailer for Up on Poppy Hill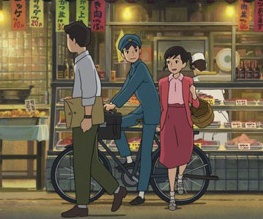 It's Studio Ghibli time! (Ghibli, Ghibli). Over the years Ghibli have been a breath of the freshest air from the ever increasingly 3D-saturated American market with their kooky and beautiful animations. This time around however it looks as though they are moving away from the magical-realism that made them so famous, instead focusing on a animated version of a classic Manga comic from the 1980s.
From Up on Poppy Hill is a high-school love story set during the preparations for the 1964 Tokyo Summer Olympics. Japan is still trying to get back on its feet after the devastation of WWII. In the midst of all of this, a group of school children try to keep their clubhouse open as developers with their diggers come in to knock it down. If you are able to pick up any of this from the trailer then consider yourself a Studio Ghibli genius. We struggled slightly…
Sad sounding music, flags, urinals, mysterious tug boats, a possible incestuous relationship? We are genuinely intrigued (apart from the incest bit…) it looks like a glorious tribute to a more unknown period of Japan's history. Also at 1:50 there is a man with the most fantastically deep voice we have ever heard! It sounds like that dud eats gravel for breakfast and lunch then has a few Marlborough Reds for dinner. Gorō Miyazaki will be directing the script which he co-wrote with his father and studio co-founder, Hayao Miyazaki. The duo make a great team and we are more than just a little bit excited.
At the moment there is no release date for From Up on Poppy Hill (Kokuriko-zaka Kara – sounds so much better) in the UK and after the disappointingly small screen release for Arrietty we pray that this one will get a larger distribution. How does The Lorax get a widescreen release and this doesn't? Pah! http://credit-n.ru/zaymi-online-blog-single.html http://credit-n.ru/kurs-cb.html
About The Author