Sucker Punch trailer unveiled at Comic-Con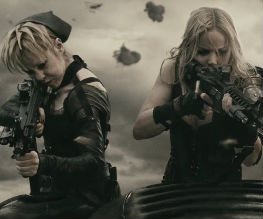 Zack Snyder left audiences members rather split as he unveiled his Sucker Punch teaser trailer at Comic-Con. A feast of visuals crammed into one and a half minutes, it's as beautiful as it is confusing, feeling rather like, well, a sucker punch.
Sucker Punch follows Baby Doll (Emily Browning) and her friends as they escape the pain of being locked up in an insane asylum by disappearing into a fantasy world – a world with could help them escape the asylum for real.
As Snyder promised, the whole thing does have a cool, 'Alice in Wonderland, with machine guns,' vibe about it, with the same Snyder-styled visuals that made his Watchmen and 300 so distinctive. It also however, feels rather annoyingly like a dance music video – fast, flashy and empty, filled with plastic looking women and annoying music. But then, hey – it's a film about hot girls kicking ass – we're in!
Sucker Punch is set for release March 25 2011
So what did you think of the Sucker Punch trailer – kick ass or just plain ass? Let us know!
About The Author