Sundance Film Festival 2013 – win for gender equality!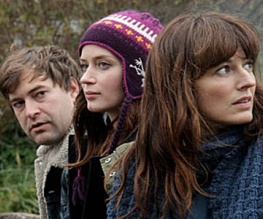 For the first time ever, Sundance Film Festival, which begins tomorrow and runs until the 27th, features an equal number of female directors to male directors in competition. Of the 16 films competing for the Grand Jury Prize, half of those are made by female directors. Highlights include Touchy Feely, by Your Sister's Sister director Lynn Shelton, featuring Rosemarie DeWitt as a massage therapist and The Lifeguard, starring Kristen Bell.
Shelton said of the news "As a woman navigating through a traditionally male dominated field, I have often felt like more of an oddity than an artist," and "I also hope that this year's gender parity among competition filmmakers at Sundance means we can look forward to a time when the quality and content of our work will be considered on its own terms".
This comes after four out of five of the Bafta Rising Star Award nominees announced were women, balancing things out from last year when all the nominees were male.
Since all the nominees for Best Director at the Oscars are male, and Oscar favourite Kathryn Bigelow has been snubbed this year due to the controversy surrounding Zero Dark Thirty, Sundance's selection in competition this year proves that there are female directors to be celebrated in equal number.
There was outrage when last year at the Cannes film festival, none of the 22 films in competition for the Palme D'Or were made by women. In 65 years of the award's history, the only woman to win the prestigious award is Jane Campion, for The Piano in 1993. She said of the reasoning behind it "The studio system is kind of an old boys' system and it's difficult for them to trust women to be capable".
All things considered, Sundance's programme is a win for the ladies. See the full programme here.
Are women being treated fairly by the awards? Is filmmaking a man's world? Let us know below.
About The Author