Tarantino shelves Hateful Eight following script leak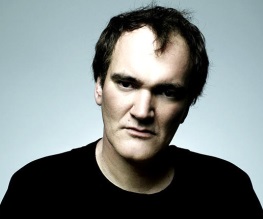 Poor old Quentin Tarantino. The director, writer and foot fetishist has pulled the plug on his forthcoming film The Hateful Eight after a draft script was leaked and turned up on the Internet. The resulting publicity blizzard, which has seen dozens of Hollywood agents contact Tarantino to pitch their clients for roles, has left him "very, very depressed" and determined not to shoot the film for several years.
"I finished a script, a first draft, and I didn't mean to shoot it until next winter, a year from now. I gave it to six people, and apparently it's gotten out today," Tarantino told Deadline this morning. But who could have leaked the script? He's got some ideas:
"I gave it to one of the producers on Django Unchained, Reggie Hudlin, and he let an agent come to his house and read it. That's a betrayal, but not crippling because the agent didn't end up with the script. There is an ugly maliciousness to the rest of it. I gave it to three actors: Michael Madsen, Bruce Dern, Tim Roth. The one I know didn't do this is Tim Roth. One of the others let their agent read it, and that agent has now passed it on to everyone in Hollywood. I don't know how these fucking agents work, but I'm not making this next. I'm going to publish it, and that's it for now. I give it out to six people, and if I can't trust them to that degree, then I have no desire to make it. I'll publish it. I'm done. I'll move on to the next thing. I've got 10 more where that came from."
Tarantino reportedly plans to publish the script for The Hateful Eight and get working on another project, in which he's apparently writing a large role for Nebraska star Dern – unless, presumably, it turns out that the venerable character actor is actually the leak. Either way, once Quentin's had his strop he should be back to doing what he does best – writing trunk shots and racial slurs.
Do you think QT has overreacted to the leak? Let us know below!
About The Author