Teenage Mutant Ninja Turtles reveals less than amazing cast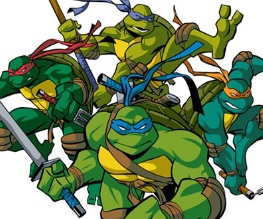 Guess what? Noel Fisher has been cast as Michelangelo in Teenage Mutant Ninja Turtles! THE Noel Fisher! Come on you must know Noel. Of Twilight Saga: Breaking Dawn – Part 2 fame? Blonde haired and blue-eyed? No? Oh.
Anyway, he's the latest hero in a half shell to join the cast which currently includes Pete Ploszek (Leonardo), Jeremy Howard (Donatello) and Alan Ritchson (Raphael). Now, you MUST have heard of Alan Ritchson? He's going to be in The Hunger Games: Catching Fire… which isn't even out yet. So of course no one knows him. Anyway, he'll be the "sai-wielding bad-boy" of the reptilian bunch.
Teenage Mutant Ninja Turtles – which we STILL cannot believe is actually happening – hits cinemas on June 6, 2014. Unlike previous live action film versions of the famous comic books, this film will use performance capture technology to bring the turtle heroes to life. Jonathan Liebesman will direct and Megan Fox will feature as jumpsuit-wearing reporter April O'Neil. Fox's casting can only be described as an injection of eye candy, similar to her role in Transformers. And Jennifer's Body. And Jonah Hex. And This is 40. We could go on.
About The Author