The 7500 trailer manages to give absolutely nothing away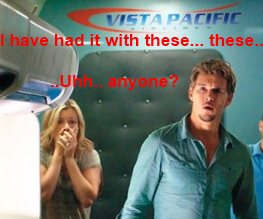 The latest addition to the 'Blank on a Plane' genre, following hot on the heels of 'Snakes on a Plane', 'Snipes on a Plane', 'Convicts on a Plane', 'President on a Plane' and 'Jodie Foster on a Plane', early rumours would have had you believe that 7500, the latest chiller from Ju-On mastermind Takashi Shimizu, was to be the genre's natural conclusion: 'Zombies on a Plane.' Thankfully, the internet was WRONG, again (and also 'Zombies on a Plane' kind of already exists). What we're actually getting is.. well.. maybe just watch the trailer first.
So it's.. 'Ghosts on a Plane'? 'Demons on a Plane'? 'Things Hiding in Various Types of Storage.. on a Plane'? Though this trailer does adhere to a few cliches – breathy lady version of a popular song, remarkably familiar font – it does manage to avoid the most heinous by giving pretty much nothing away. Other than having our interest piqued, what have we learnt?
1. Amy Smart will never age
2. Pretty much all the boarding informartion for Flight 7500
3. There are scary bits
4. The whole thing may well be caused by that guy not turning his phone off
And that's pretty much it. So what now? I GUESS WE'LL HAVE TO GO SEE IT AND FIND OUT WONT WE ARGHHHHHHH.
About The Author