The Adventures of Tintin photo gives us the creeps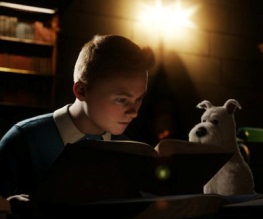 All you Tintin fans out there will already know that Steven Spielberg's upcoming adaptation The Adventures Of Tintin: The Secret Of The Unicorn, is due out on October 26 this year, and luckily for you we have the latest picture from the film in which Tintin is working with his faithful friend Snowy, in what looks like an uber creepy library.
The film, as any devout fan should know, is based on three of the famous Tintin books by Belgian cartoonist Hergé. The stories featured in the film will see Tintin and Snowy meet drunken Captain Haddock (Andy Serkis) and investigate the good-for-nothings who are trying to uncover the whereabouts of the Unicorn – a treasure ship sunk by the devious Red Rackham (Daniel Craig) centuries before.
Produced by Peter Jackson, and also starring Simon Pegg, Nick Frost and Daniel Mays, this Tintin extravaganza is thought to have an Avatar look and feel to it. But judging by the picture, we think it just looks damn creepy.
About The Author