The Artist's mantelpiece is cluttered with even more prizes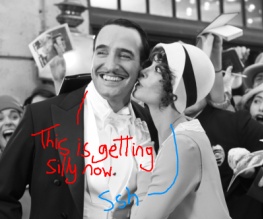 After cleaning up at virtually every major awards ceremony since Cannes, The Artist has enjoyed another stunning clutch of wins – this time at the London Film Critics' Circle Awards (no, we weren't invited. What of it?).
The nearly silent and actually monochrome feature won Film of the Year as well as Best Director and Best Actor for, respectively, Michel Hazanavicius and Jean Dujardin.
Iranian drama A Separation also won three awards, going home with Foreign Language Film of the Year, Screenwriter of the Year for writer-director Asghar Farhadi and Best Supporting Actress for Sareh Bayat.
Michael Fassbender won British Actor of the Year for his starring roles in Shame and A Dangerous Method, whilst Kenneth Branagh scooped Best Supporting Actor for his performance as Sir Laurence Olivier in My Week with Marilyn. Meanwhile, The Iron Lady's cast managed a prize and a half, with Meryl Streep sharing Best Actress with Anna Paquin (Margaret) and Olivia Colman winning British Actress of the Year for her performances in the Margaret Thatcher biopic and Tyrannosaur.
Astonishingly, the two most nominated films – Tinker Tailor Soldier Spy and Drive – managed to win just one award between them despite sharing a total of twelve nominations. Tinker Tailor Soldier Spy's production designer Maria Djurkovic won Best Technical Achievement (interestingly enough, this was also the only prize that the film managed to scoop at the BIFAs last month).
Rounding off the major awards, British Film of the Year went to Lynne Ramsay's We Need to Talk About Kevin, whilst Senna picked up Best Documentary and Craig Roberts won Young British Performer of the Year for Submarine. Weekend director Andrew Haigh won Breakthrough British Film-Maker. Iconic director and cinematographer Nicolas Roeg won the Dilys Powell award for Excellence in Film.
Finally, the Critics' Circle's ten best films of 2011 were:
#1 – The Artist
#2 – A Separation
#3 – Drive
#4 – Tinker Tailor Soldier Spy
#5 – The Tree of Life
#6 – We Need to Talk About Kevin
#7 – Melancholia
#8 – Shame
#9 – Margaret
#10 – The Descendants
This is all getting very repetitive. Shall we have the Oscars now?
About The Author