The Avengers gets first poster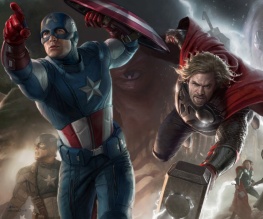 Joss Whedon and Marvel unveiled a tasty treat for this weekend's Comic-Con visitors – the first official poster for forthcoming superhero epic The Avengers.
The poster, which splits into seven character images detailing the individual Avengers (complete with shadowy background bits and bobs which nod to other aspects of their characters and backstories) was revealed piece by piece before being stitched together into one seamless wall of awesome. However, the full-size image is a bit small and rubbish, so (at the expense of having a series of Marvel logos instead of just one) we've used the individual posters to make a monster of which even the Hulk would hopefully be proud.
Just click the teeny image below to see Natasha Romanoff AKA Black Widow (Scarlett Johansson), Tony Stark aka Iron Man (Robert Downey Jr), Bruce Banner AKA The Incredible Hulk (Mark Ruffalo), Steve Rogers AKA Captain America (Chris Evans), Thor (Chris Hemsworth), Clint Barton AKA Hawkeye (Jeremy Renner) and Nick Fury (Samuel L Jackson):
Ahem. SO MUCH AWESOME. That is all.
The Avengers is due out on May 4th 2012. Assemble!
About The Author