The Avengers will get the 3D treatment…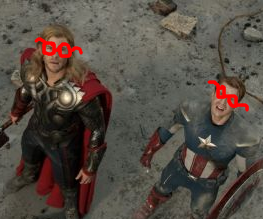 A day after the announcement that Star Trek 2 will have the 3D retrofit treatment, we can confirm that The Avengers will be doing the same thing. Bah. Considering the only super-film of recent times to actually shoot in 3D is the upcoming The Amazing Spiderman, is there any justification for this bolt-on? Seeing as it added basically nothing to either Captain America or Thor? No. No, is the answer.
It's pretty late in the day to be announcing a 3D switcharound (it's supposed to hit our screens in April), but does at least give the Marvel team time to ensure that it's done properly. And by properly, we mean desperately unnecessarily. The thing is, a lot of people are going to go and see The Avengers. Hell, we've essentially been building up to it ever since Iron Man got a release back in 2008. Since then we've had character instalments from The Hulk, Thor, Captain America – not to mention another look-in from Iron Man – so there is certainly money money money to be made. And why not take the opportunity to add on an extra few quid to the ticket price, if they can? Apart from because it's morally bancrupt, we mean? Well exactly.
Are you looking forward to The Avengers in all their multi-dimensional glory? Sigh. We're sick of writing about crap 3D….
About The Author